Upload Presentations as a Presenter¶
Summary¶
There are three steps to submitting your presentation to Preseria. That's it!
Click the Login/Register link contained in the email invitation you received.
Enter your name and choose a password. Click the "Register" button.
Now, at the presenter dashboard, click the "Create/Edit Presentation" button and upload your file by clicking "Browse" or using drag & drop from your Finder (Mac) or Explorer (Windows) window.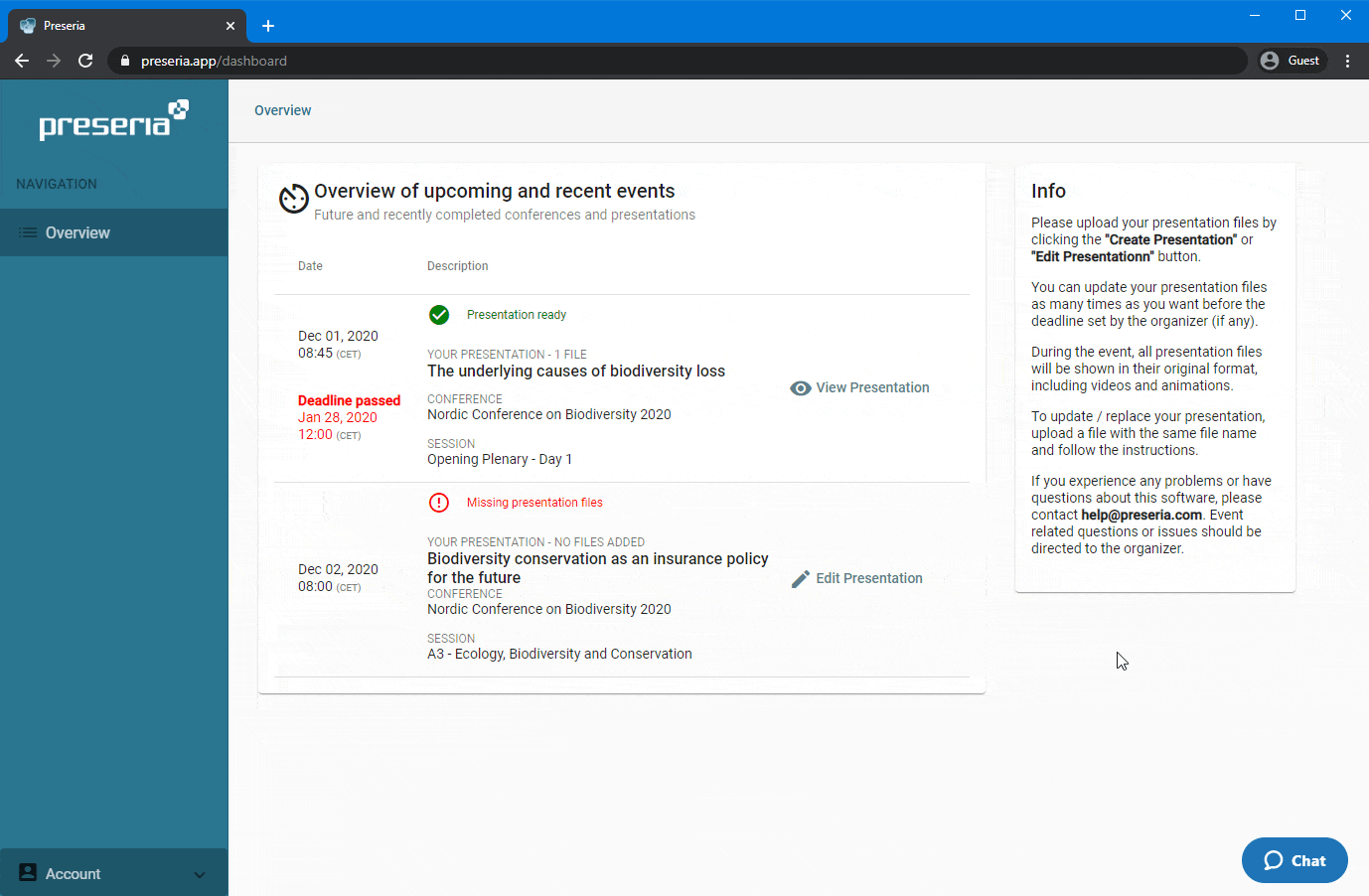 Accepted file types¶
The conference organizer will most likely have specified which file types are accepted in the email you received from Preseria. PowerPoint is almost always accepted. Often PDF and Apple Keynote files as well.
Detailed step-by-step guide¶
To upload your presentation files (PowerPoints, PDFs, Videos, etc.) you need to be registered and logged in with the email address that received the invitation email from the organizer.
After having went through the registration process (entered your name and chosen a password), you will be automatically logged in. In case you need to log back in later to update your presentation, you can either click the "Login / Register" button in the email invitation you received, or log in by opening Preseria and clicking the login button in header.
If you forgot your password, you can request it from the login page. Once successfully logged in, you will see your dashboard:
If you are only scheduled to give one presentation at the conference, you will only see one row and one "Edit Presentation" button in the list. If you are giving multiple presentations at the conference, you will see a row for each of your presentations. Depending on what the conference organizer have chosen, you might have to enter the title for your presentation(s) before uploading its files.
Info
The presentation title has a limit of 255 characters. If your title can't fit, shorten it or add a couple of ".." at the end.
After clicking the edit button for the appropriate presentation, you will see the contents of your selected presentation. Here you can add, delete, replace and reorder files. Normally, you'd only have one file (typically one PowerPoint, Keynote or PDF slide deck), but you are allowed to add more (unless restricted by the conference organizer). You can upload files by clicking the "Upload File" button and then selecting your file. Multiple files can be selected and uploaded at the same time.
Once your file(s) are uploaded they will appear in the list of files. If you have more than one file, you can drag and drop the files to change the order in which they will appear when you present on stage.
Info
You may at any time log back in and update your presentation, but make sure to adhere to any deadline imposed by the organizer. The email invitation you received usually contains information on deadlines. The organizer may set a deadline in Presera that will prevent you from modifying your presentations after a certain date and time. If a deadline is set, and it affects your presentation, the dashboard will show the deadline in a visible red color, formatted according to your local timezone.
To download or delete a previously uploaded file, simply click the "Download" or "Delete" button to the right in the row representing the file.
To quickly replace a previously uploaded file, upload a new/updated file with the same file name.
If your file is larger than 2 GB you need to contact the organizer and arrange an alternative way of transferring your file, such as WeTransfer or Dropbox. The organizer is allowed to upload files up to 10 GB and may upload the file on your behalf.
---
Last update: May 4, 2020